Asia is massive and oftentimes, when you travel somewhere on the biggest continent, chances are you will get extremely long layovers. And especially, if you're backpacking, these itineraries can be exhausting. I've had some of those, like my 37-hour flight from Kota Kinabalu (Malaysia) to Skopje (Macedonia) that included a 21-hour-long layover in Singapore.  The best solution to this is to break up your journey into pieces and spend a day at some interesting place, like Singapore. Singapore also has one of the busiest and biggest airports in the world in Changi Airport. Hence, a lot of flights use it as a transit point. Singapore in 24 hours
The most organized place on the planet
My first impression of Singapore was that this cosmopolitan city-state is like a big desk, full of drawers and pigeonholes, where you always know where you can find something and when that something knows exactly where his place is. If I could only choose 4 words to describe this incredible country, they would be: spotless, sophisticated, efficient but also expensive. The last part is a deal breaker for many travelers but Singapore can be covered in 24 hours without taking too much of your travel budget. Singapore is basically a city-state, the only one of its kind in the world.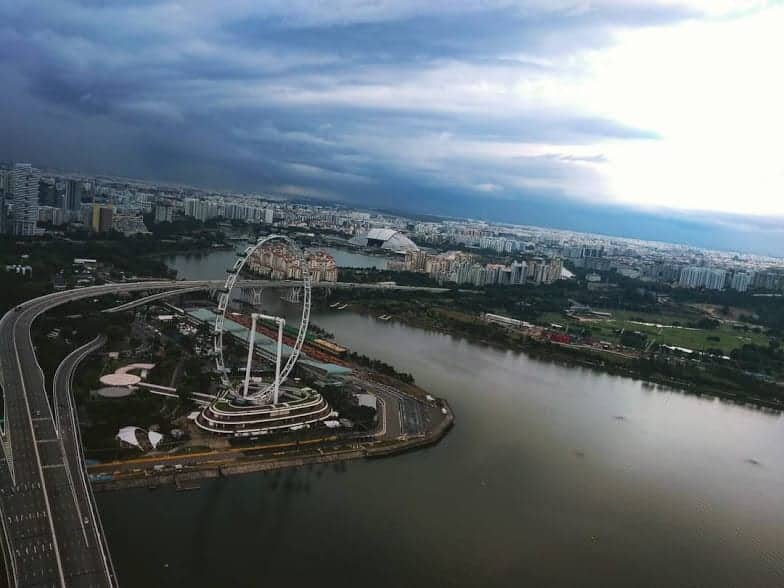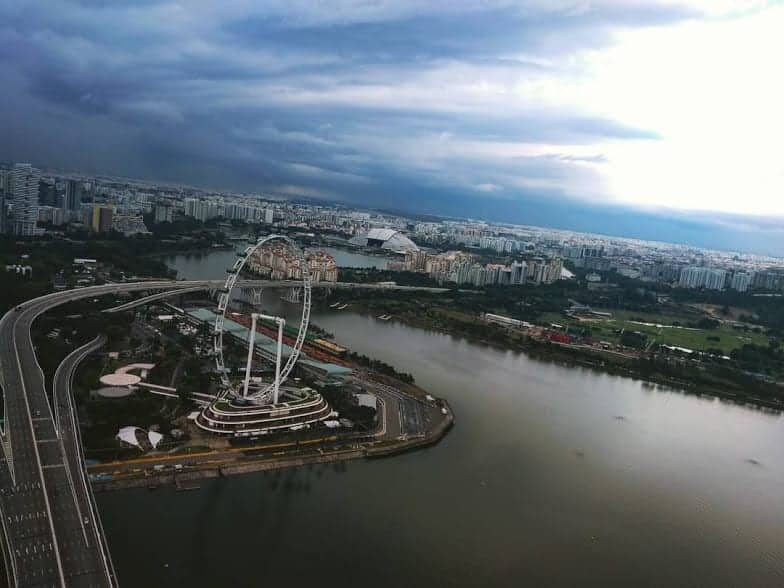 The total area Singapore covers is 278 square miles (719 square km). Singapore is a small, organized, and compact so it's completely possible to get a glimpse into what the Lion City has to offer in a relatively short period of time. Even 24 hours. Singapore is made up of the largest island that's the city-state and 63 small, uninhabited surrounding islands. The name Singapore derives from the Sanscrit words singa and pura, meaning Lyon City. Supposedly, that was the first thing the prince Sang Nila Utama saw when he reached Singapore. The name stayed the same for centuries, even though there aren't any lions to be found in Singapore today.
Cosmopolitan city where bubble gum is banned 🙂
Like I said, the first noticeable thing about Singapore is its well-deserved reputation for its strict laws against any kind of littering. I think Singapore is one of the cleanest countries I've seen. Because littering here comes at a price. Oftentimes, at fines of $1000 or more. A fun fact is also that chewing gum is banned in Singapore. It has been banned since 2004 and the reason is they don't want people spitting it out on the street!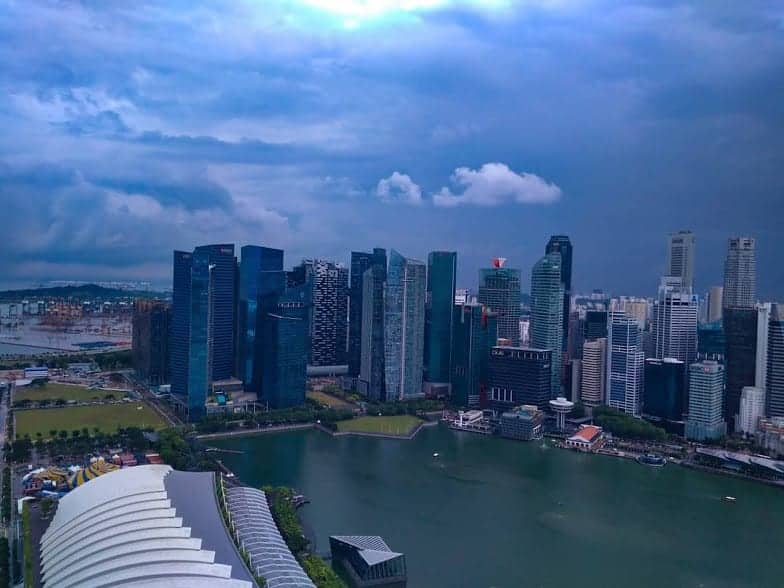 Singapore is probably the most cosmopolitan city I have ever seen. It's one small and compact city but it has everything. Starting from the huge Indian, Malaysian, and Chinese neighborhoods, followed by British colonial influence, to state-of-the-art infrastructure. There are people from different cultures and backgrounds living together in peace. This conglomeration of cultures leads to Singapore having four official languages: English, Mandarin, Malay, and Tamil. And a lot of Singapore's residents speak at least 2 of them.
Before we start with the city's attractions, you can store your luggage at Changi Airport. It costs $10 SGD for luggage up to 10 kg and $12 SGD for bigger luggage. The cheapest way to get out of the airport is the metro. There's a direct line connecting the Changi Airport to Farrer Park, the closest station to Little India.
Little India
You can start the morning in Little India. This is a buzzing historic district that shows the vibrant culture, with the small, brightly colored apartment blocks, the beautiful Hindu temples, and its own, unique atmosphere. Singapore has an Indian community of 250,000 people or around 7% of the total population. It really feels like a slice of India. A much cleaner, more organized slice. No offense, India. I still love you.
Make sure to check out the Mustafa Center. You can literally find anything here. Locals come here to bargain and tourists to get cheap souvenirs. There are also a lot of good affordable restaurants nearby. Also, visit Sri Veeramakaliamman Temple and Sri Srinivasa Perumal Temple. You will be able to find a lot of cheap and quality restaurants around, so it's good to have your breakfast here.
China Town
Chinatown is pretty close to Little India. The neighborhood is a sharp contrast to the rest of Singapore, with a lot of small buildings, fragrant smells of traditional cuisine and the gold and red tones that flow through this charming neighborhood. One of the first things you will want to see is the monolithic Buddha Tooth Relic Temple. The temple is a home to a 27-foot statue of the Buddha. You should also check out the Pinnacle Duxton Skybridge. This is the tallest residential building in the world. You can enjoy the amazing view for just $5 SGD. Finally, a walk around the Chinatown Street Market is something you wouldn't want to miss.
Arab Street Area
Not very far from Chinatown and Little India, the next stop would be the Arab Street. Arabic-style boutiques, street art, and the lively local restaurants make this area one of the most vibrant neighborhoods in the Lion City. Check out the historic Muslim quarter, Bussorah Street, Haji and Bali Lanes and Muscat Street and make a stop for some Arabic tea/coffee.
Gardens by the Bay
This Avatar-like landscape will intrigue you the second you go spot them from far away. Inside, the gardens are just as exciting.  It's home to over 500,000 plants from across the world. The gardens also have the world's tallest indoor waterfall, which is 35 meters high. While you're here, check out the Flower Dome, known as the largest greenhouse in the world. Climb to the OCBC Skyway for a panoramic view of the garden's surrounding. And don't forget the Cloud Forest, filled with rare plants from around the world. The giant waterfall is also here.
Sentosa Island
A 12-minute cable car ride separates Sentosa Island from Vivo City. You can enjoy another stunning panoramic view of the island on the way.  You would probably get tired by now and Sentosa is the ultimate place to go and relax. With its soft, sandy beaches along the southern coast, this is a great place to get a much-needed rest. Escape the hustle and bustle of Singapore and have an ultimate beach resort experience. It will only take you 12 minutes to reach there.
Orchard Road
It is one of the most iconic streets in Singapore. Singapore's epicenter of shopping, similar to Oxford Street and Nathan Road.  If you're a shopping freak, you can literally spend your whole day here. The shopping malls along Orchard are stocked with practically everything under the sun. It's good at least to spend some time to walk around the area but if you're not a shopping fan, don't spend too much time here.
Marina Bay Sands
Marina Bay is the place where you can do Singapore's most spectacular things. The focal point of the bay is a S$5.5 billion complex with a lot of great things to do and see in the area revolve around the complex. Some of them are the Science Museum, a lot of Casinos (the entrance is free for foreigners) and various restaurants and clubs.
The most iconic view in Singapore is definitely from the rooftop bar Ce La Vi. Thanks to Singapore's location, it always gets dark around 7:30, so you can do more things during the day. However, make sure to reach the rooftop in time for the sunset. After that, you can treat yourself with some amazing cocktails on the rooftop and see the spectacular lighting show at Marina Bay from above. The show starts at 8 pm and it illuminates the water and the landmarks, making the city look like a postcard.
The night
If you are looking for a fancy dinner, you can head to the Stamford Hotel for some amazing food accompanied by an amazing view. The restaurant is on the 70th floor and as you imagine, it's pretty costly. If you are searching for something simple, there's a myriad of food courts around the Bay.
Singapore has a lot to offer after the sunset too. Pubbing and clubbing here are a must if you want to feel the true night-pulse of the Lion City. If you experience the country only by day you will get just half of the picture. You will easily find a lot of bars and clubs around the Marina Bay area.
When you're done and need to head back to the airport you can get the Marina Bay Sands airport shuttle from the coach bay leaving every hour. It costs $9 SGD.
Many travelers avoid Singapore because of its high costs and 'robotic' cleanliness. Singapore might not have a lot of natural beauty but I think it's the closest thing to perfection we have on our planet. Hence, skipping this metropolitan, multicultural city-state on your Southeast Asia tour would be a big mistake.