How to cover everything worth seeing in Cambodia in 2 weeks
Cambodia… Where to start? It's one of my favorite travel destinations. A country with a terrible history.  Cambodia might be a corrupted and poor country, but it's a home to some of the friendliest people on our planet. More than 1.3 million people come to Cambodia to visit the incredible Angkor Wat but many of them aren't aware of the hidden beauty that lies in this country. Cambodia has so much more to offer than just Angkor Wat and Phnom Penh. I managed to cover most of these places and decided to write this article to show you the best way to travel Cambodia in two weeks.
Day 1: Arriving in Phnom Penh
The best alternative is to fly to Phnom Penh instead of Siem Reap, as the airport in Phnom Penh has more traffic and, therefore, cheaper flight tickets. Phnom Penh was once the 'Peal of Asia'. However, the city went through a lot, including a civil war. Today, the city is revived and it feels really good to see Phnom Penh moving on from the terrible 20th century.
The capital of Cambodia is one of the most unique capitals in Southeast Asia. Or as I like to call it: 'The city of million mopeds and $3 hostels'. Phnom Penh today is a charming city filled with authentic streets, intriguing markets, exotic street food and a charming bay. When you visit Cambodia, you don't have to exchange your currency, as the USD is as widely accepted as the local Riel. You should stay near Sisowath Quay, more commonly known as Riverside. Most of the tourist attractions here are within a walking distance, with a lot of hostels and hotels from which you can choose. There are also a lot of bars and nightclubs and cheap restaurants.
Day 2: Explore the surrounding and the Killing Fields
You can use this day to take a trip to the Killing Fields of Choeung Ek, which is an hour away from the city. Between 1975 and 1978 around 20,000 people, including women and children, were detained and tortured here by the Khmer Rouge. Today, this is a peaceful place, where you can take a glimpse at the horrors unfolded here in the last century.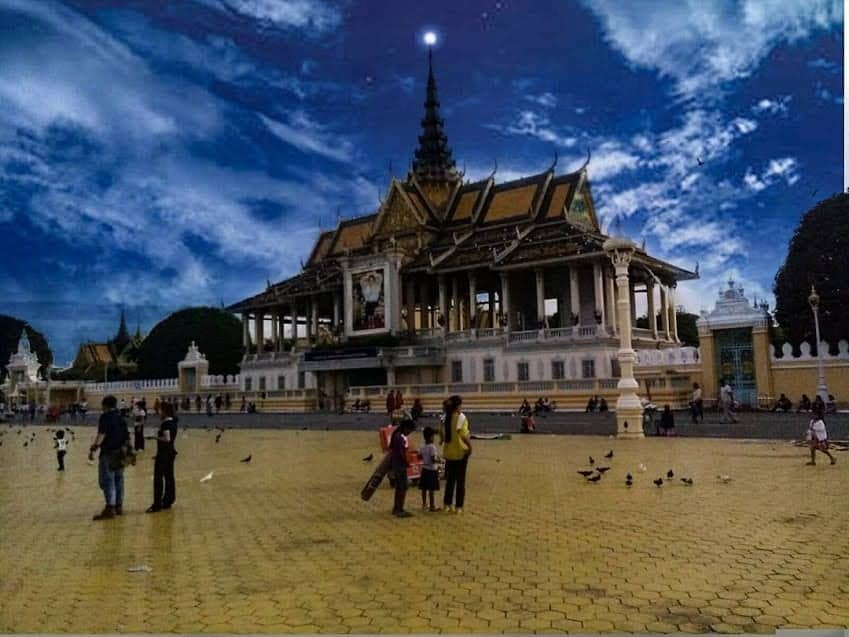 After coming back in the city, you can cover the sights you missed the first day. A must see places are: the Royal Palace, the Central Market, and an array of Buddhist temples. I'm not a big fan of museums but the Tuol Sleng Genocide Museum is a must. However, don't go there if you have a weak stomach. Like I mentioned, some really awful things happened to Cambodia and its people in the last century. To round up the day, don't miss the chance to have dinner at one of the restaurants next to the river. The sunset view along the Mekong is breathtaking.
Day 3: Head to Banlung
I suggest you leave Phnom Penh around noon.  The journey to Banlung lasts between 8 and 10 hours, depending on your driver and road conditions. You can spend the night here and get some rest before the next exhausting day.
Now you might wonder why this God-forsaken place is on my list. There really isn't anything to see here, that's true. But this is the only place where you can buy tickets for the Virachey National Park and the opportunity to have the ultimate jungle adventure.
Day 4: Exploring Virachey National Park
This park has never been fully explored and it has some unique species, like the clouded leopard and the sun bear. There are also a lot of elephants, hornbills, giant ibis and a lot of other species. The park has been designated as an ASEAN Heritage Park. Needless to say, a mosquito repellent is a must here and you should be careful about poisonous snakes, even though the probability of encountering one isn't very likely.
The park is located on the border with Vietnam in Eastern Cambodia, a part which isn't very popular among tourists. This makes this area vastly unexplored and you will be able to see a lot of the 'authentic Cambodia' on the road, which is quite different than the 'touristy Cambodia'.
However, the only way to enter the park is via organized group tours. The price is about $50 per person per day. That includes food, hammock rental and homestay at the end of the trek. You can spend the night there and go back to Banlung in the morning. From here you can catch a bus to Siem Reap (around 7-8 hours).
Day 5: Heading to Siem Reap
It's good to reach Siem Reap in the late afternoon and buy your Angkor Wat ticket after 5 PM. Why? Because it will remain valid for the next day and you can still catch the sunset over Angkor Wat, one of the most amazing sights in the world. This way, you can only buy a one day ($37) pass, instead of a three-day pass ($62), or a weekly pass ($72).
Day6: Exploring Angkor
Other than the Angkor temples, there aren't many other things to see around Siem Reap, except Tonle Sap, the biggest freshwater lake in Asia. Angkor used to be the capital of the Kingdom of Cambodia between the 9thand the 15th century. And believe it or not, there's much more to see around here than Angkor Wat and Angkor Thom. That's why it can be a bit tricky covering the whole place in a day. Tricky, but not impossible.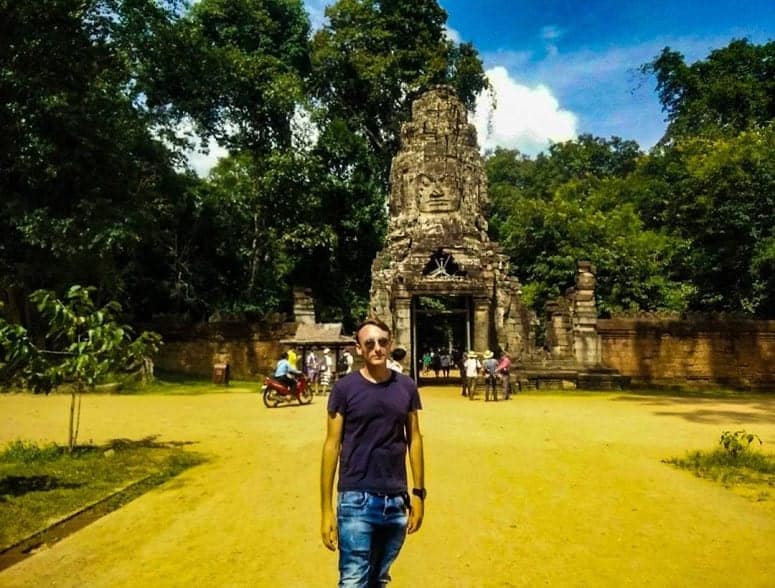 Many people just visit a few of the most famous temples, but there are some amazing hidden places in the most amazing ancient city in Asia, even though nowadays, Angkor is also compared to Bagan which you can explore during your Myanmar trip. Anyway, the most practical way is to get a tuk-tuk as there's a lot of ground to cover. The price for a tuk-tuk is $20-25 USD for the whole day. If you can find someone to share the tuk-tuk with, that's even better. You can use the evening for relaxing or going out partying, which is highly unlikely. The exploring of Angkor can be quite exhausting, especially in the summer, when the humidity is higher.
Day 7: Phnom Kulen National Park
Don't check out from your hotel in Siem Reap yet. There are a lot of one day tours going to Phnom Kulen National park, which is around 50 km away from Siem Reap. Phnom Kulen is just amazing. In my opinion, it is one of the most underrated places in Cambodia. Phnom Kulen is a mountainous plateau that hides more than 375 square kilometers of lush jungle and wildlife. The entrance tickets cost $20.
Phnom Kulen is mostly known for its breathtaking natural beauty. However, many people don't know that this place has a huge historic significance. It was here that the Cambodian king Jayavarman II proclaimed independence from Java. The place was also a stronghold of the Khmer Rouge in the 1970s when they used to hide in the jungle. This mountain is a sacred place for both Hindus and Buddhists. Hence, you can find a lot of temples thrown around the jungle that can even give Angkor a run for their money.
Day 8: Battambang
Battambang is only 3 hours away from Siem Reap. You can leave from Siem Reap with a bus at 5 AM and reach Battambang around 8. If you have your luggage, you can drop it at Mad Monkey hostel, located in the central area and close to all of the main sights. Battambang is the second most populated city in Cambodia and it's a must visit place for history lovers. One day is completely enough to cover the city and in the evening you can catch a bus to Sihanoukville. It's an 8-10 hour journey and you should reach Sihanoukville the next morning.
Day 9-10: Sihanoukville
Sihanoukville might not win a first prize in a pretty-town competition, and the city is filled with casinos and commercial centers. But despite the rapid and poorly planned development, Sihanoukville still is the main jumping-off point for the best islands and beaches in Cambodia.
Sihanoukville is a small town with some nice beaches. The most beautiful ones are Serendipity Beach and Otres beach. You can spend these couple of days relaxing at the beach and partying in the nights. Sihanoukville has some of the best nightclubs in Cambodia. And they're not expensive too. Alternatively, you can go island hopping, but I suggest you spend a couple of days at the beach relaxing after spending a few long days on the road.
Day 11: Enjoy the best Cambodian Island
Cambodia has a few really nice islands on the coastline but my absolute favorite is Koh Rong. Koh Rong is filled with untouched, natural beauty, despite the increased number of tourists in the past few years. Koh Rong has the reputation of a party island and your first impression might not be so positive because the area around ferry stop is the tourist area and it's always crowded and dirty. But if you go along the coastline to the village where the locals live, you will be charmed by this tropical paradise. The best beach on the island is Coconut beach that looks like a slice of heaven.
Ferries come and go all the time and you should easily be able to purchase your tickets at Sihanoukville. Even though my absolute favorite is Koh Rong, there are a couple of other islands you might consider, like Koh Rong Samloem or Koh Tang. Sihanoukville is the starting point for visiting any of these islands. Most travel agencies charge $20 for a return ticket for any of the islands. However, I managed to get on a supply boat going to Koh Rong for just $5.
Day 12-13: Go back to Sihanoukville and head for Kampot
After spending the last evening on the beach you can head to Campot, a town located a few hours away from Sihanoukville. Campot is a sleepy town comfortably lying next to Preaek Teuk Chhu River. The city is filled with yellow colonial buildings and dusty roads. It's not a place to go for sightseeing but rather just relax, enjoy the atmosphere and meet some friendly locals. And have great food, of course. Surprisingly, this small, forgotten place is becoming a home for more expats in recent years.
Kampot is an example of the amazing countryside of Cambodia. If you're a person that can find the beauty in the chaos and the charm in the lack of development, Kampot is a must for you. After spending a day at Kampot it's time to head to Bokor, one of Cambodia's most beautiful hill stations. The view from the top of the hill is simply amazing. And Bokor is one of the best paragliding spots in Southeast Asia. It's pretty cheap too: you can do it for $35-$40.
Day 14: Relax at the beach one last time
From Bokor, you can head back to Campot and take a bus towards the last destination. Kep is a small seaside resort town located only a few dusty roads and several rice fields away from Campot. The history of this town is really interesting. It used to be the top vacation spot in Cambodia for the elites until the emergence of the Khmer Rouge. After that, all the fancy villas, and the whole town, as a matter of fact, was completely destroyed.
For several decades, the beautiful beaches hosted nothing but ruins. In the past few years, foreign investment started flowing into the Kep, and the city is slowly returning to what it once was. And now, unlike the rest of Cambodia, the development here seems slow, careful, and planned. Finally, after spending a day exploring this small lovely time, it would be time to go back to Phnom Penh. It's a 3-hour journey and I suggest you take a van instead of a bus because it can drop you directly at the Phnom Penh airport.